Let's be frank, if you haven't already been led hook line and sinker into Mr Frank Green's water bottle drinking craze (to put it lightly), chances are you're well acquainted with the bright colour palettes, larger than life designs, and an apparent inability to ever part with them.
What started as a line of cleverly designed insulated coffee cups, which were warmly donned by coffee connoisseurs across Australia, quickly expanded into new product lines leaving competitors green with envy, forcing them to shape up if they wished to compete. Since then, Frank Green have continued to push the design limits, widening their ranges to include their infamous 1 litre (and now 2 litre) water bottles, and creating some kick-ass marketing to tie it all together.
Transitioning effortlessly from desk co-worker to walking companion, car-karaoke duet partner to gym comrade, it's rare that our trusty Frankie's (yes, we're on a nick-name basis over here) aren't strapped to our side.
You might be thinking… it's just a water bottle, what's the hype? Think again, and don't knock it till you've tried it. If you are yet to experience the hype, we suggest you get on board, because you are seriously missing out. As we sit here at Base HQ, sipping away as we type, Frank Green has undoubtedly taken the Gen Z world by storm, taking simple and doing it (exceptionally) well.
While not a client of ours (we wish!), we like to give credit where credit's due and think Frank Green deserves some serious kudos for their marketing efforts.
It's no secret that our water bottles have almost become part of our identity, and the pipeline from practicality to personality trait has been a trend we've well and truly jumped on. Insert TikTok's #emotionalsupportwaterbottle trend, amassing over 66 million views (and counting), the Aussie company has become a global internet sensation, with every man and their dog (yep, they sell dog products too) wanting a piece of the sweet Frank Green pie.
Today we're talking all things Frank Green and taking a deep-dive into their marketing mastery which bought the #emotionalsupportwaterbottle to life. So quickly refill your bottle, and let's get started!
Who the heck is Frank Green anyway?
Now, if you haven't heard of Frank Green by this stage, it's pretty fair to assume you've been living under a rock, but you'll be forgiven for not knowing the ins and outs of the business. Luckily we've compiled everything you need to know right here. Melbourne-based founder Ben Young started a humble career in Industry Mergers and Acquisitions, however longed to retire from the never-ending rat race, and instead tackle the impact of single-use products on the environment. Sorry to be anticlimactic, but as you can probably guess, one thing led to another, and in 2014 Frank Green was conceived – a love child of style and sustainability (talk about a career change).
Coffee cups were their debut product, and since then, the brand has expanded to bowls, cups, tumblers, pet products and the infamous water bottles we know and love.
You may be confused about how the brand name Frank Green came to be, and to debunk any theories, *spoiler alert* Mr Green 'isn't a person, [rather] it's a philosophy' (Frank Green). Their vision is simple – '[they] are frank about living green' (Frank Green). The group has maintained ''a simple, honest approach to sustainability…[making it] their mission to create lifestyle solutions that are built to last and great for the planet' (Frank Green). And they haven't been too shabby at it either, with sources revealing an estimated annual revenue of $13.3 million per year (not bad hey Mr Green!).
As you can probably imagine, CEO Ben Young has since then secured himself a (very well deserved) seat in the list of top Aussie entrepreneurs, with a stacked trophy cabinet of industry awards to sweeten the deal….and some serious bragging rights to go with it.
THE #emotionalsupportwaterbottle
You'd think the practical and seemingly mundane essential of the humble water bottle wouldn't normally pique the interest of a global scale audience, however you'd be sorely mistaken. Competition runs rampant across the industry, with other big league players such as Hydroflask and Yeti also in the race to score customer loyalty and market share. Better yet, forecasts suggest the trend is here to stay, with market growth predicted to rise on an upwards trajectory through to 2030.
With the growing popularity of TikTok, soon came the introduction of the #emotionalsupportwaterbottle, and just when we thought water bottle affinity couldn't get stronger, this took it to a whole new level. The micro-trend quickly turned major-trend, and Frank Green's 1L bottles quickly became the converted season's diamond. Crowds flocked to their website in masses, in an attempt to score the must-have colour-ways, and the compulsory straw lid (sorry button lid users). Piggy-backing off Covid-19 isolation periods, consumers farewelled traditional weighted blankets and meditation sessions, instead opting for the familiar home comforts of their water bottle.
As ridiculous as it truly sounds, where the consumer went, the Frank Green bottle closely trailed, like a trusty steed. The donkey to their Shrek, Frankie's, were always at arms reach, creating an almost humanistic connection with a material, inanimate possession.
This quickly positioned the humble reusable water bottle as more of a fashion accessory (or badge of honour) than a practical household item, with millions spending big to secure a bottle of their own. And, you best believe the marketing department latched onto the trend, embracing its popularity to drive conversions and customer loyalty (genius). Frank Green's Founder likened the trend to 'Kardashian territory' providing insight into its global popularity and seemingly manic purchasing behaviour (no judgement here though, we too have made the "compulsory" purchase!)
Running simultaneously with the emotional support water bottle phenomenon (mind you, it's still very much alive and kicking) Frank Green's infamous 'mystery box' campaign made its TikTok debut. Paying homage to the age-old 'lucky dip' we all know and love, shoppers were quick to embrace video unboxings on the platform, sparking conversation and encouraging others to share and compare what they got in their own boxes.
It's clear that Frank Green doesn't shy away from pushing the marketing boundaries, attempting to do this unthinkable, all in the name of appealing to their target audience. The brand has used platforms commonly flocked to by the Gen z audience, leveraging this popularity to meet consumers where they are. It comes as no surprise that this has certainly cemented a bonafide cult following of Frank Green fanatics, that some brands can only dream of.
Going off this, the brand has cleverly recruited a number of highly influential TikTok personalities to add some flavour and flair to their already extensive tapestry of marketing magic. This has worked in their favour, building trust and likability, as well as strengthening their social proofing.
An example of this can be seen, with a collab with TikTok famous fashion mogul, 'FlexiMami' who is pictured above sharing an video matching her #emotionalsupportwaterbottle to her latest outfit.
And just when you thought Frank Green couldn't get any better, news flash they do. In 2022 their marketing boundaries were once again pushed to their limits, with the birth of some seriously cool brand activations. Most notably, we loved seeing pops of Frank Green funk within Aussie fashion hub, StyleRunner, where consumers were invited to fully customise their own water bottle in store. From all accounts, this was a great success for the brand, and enjoyed by many.
The marketing magic involved
This leads us into a little nice segway, where we delve into the magic behind Frank Green's marketing strategy. We think a social media presence as fun and fresh as Frank Green's has worked wonders for the brand. It's pretty clear that Frank Green is no stranger to putting out all the stops to produce a show-stopping campaign.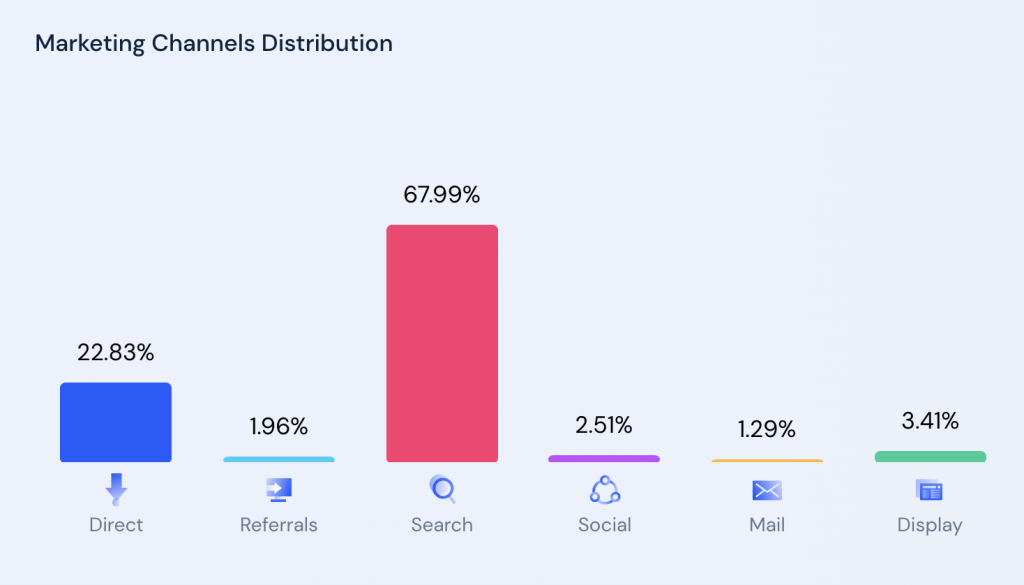 When looking at their market channel distribution, while 'search' takes the lion's share, it is likely this high search volume is stemming from the strong brand awareness Frank Green has generated through their social channels and across a number of touch-points.
It comes as no surprise that Frank Green's organic traffic has continued to grow since its kick off in 2014. This again, is a testament to the strong brand awareness they have been able to generate through their cleverly crafted marketing.
Why we love Frank Green
Frank Green has cemented themselves as a firm cult fave here at Base Digital, and really, there's to love about the Brand. Colourways and effortless style aside, there's much to be said for their marketing success. Frank Green really has positioned themselves as a formidable force in an already competitive industry, mastering the true art of brand awareness and making it look easy!
We also love that despite amassing considerable success, and continuing to evolve as a brand, Frank Green has remained consistent with their original eco-centric vision. This can be hard to do, and their unwavering brand persona has, and continues to shine through every aspect of their marketing. Sticking to the game plan is what we love to see here at Base!
Following on from this (and yes, we could go on for days!), as fellow marketers, nothing makes us happier than seeing a streamlined web experience for users. The site-page echoes the resounding fun and flair we've seen across their social platforms, while additionally seeking to educate site visitors on the importance of sustainability – in other words, far beyond the scope of simply hard-selling water bottle features.
So there we have it! I'm sure you can agree with us that there's much more to the brand than what meets the eye! We couldn't have been more excited to kick off our business feature debut taking a deep dive into all things Frank Green!